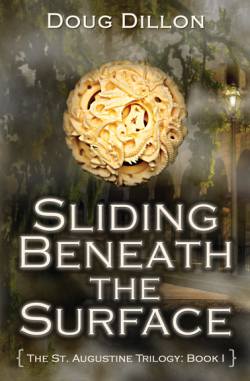 Young adult, paranormal & historical
The St. Augustine Trilogy:
Book I
A review placed on Amazon by BJ Pedigo.
"Sliding Beneath the Surface by Doug Dillon was a book that I started to read and I couldn't put it down. The story was very exciting from the beginning till the very end.
"The recreation of the streets and landmarks made me feel like I was back in St Augustine. Dillon gives such good details in describing St. Augustine as Jeff and Carla traveled around the town. Dillon adds some history to the story from the Battle of the Second Seminole War. I'm a Floridian and I feel Dillon also does a good job mixing in the tourists and the ghost tours into the story, which is popular in the town of St. Augustine.
"The character, Jeff Golden, was a believable teenager. With all the experience that Dillon has as an educator of teenagers, Jeff came to life with a stubbornness and an "I know everything attitude". I feel that the car accident made the explanation of Jeff's paranormal abilities real.
"Dillon adds Author's notes which contain real facts about the battle and the soldiers in the Seminole War. He also adds website to his notes from the Florida state parks, Dade battle field, and more, which gives you details about the battle. I think this would make an excellent educational resource for learning about Florida.
"I would recommend reading this book and I look forward to reading book 2 in the St. Augustine Trilogy."
To see this review on Amazon, click here.