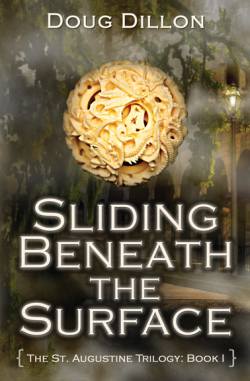 Young adult, paranormal & historical
The St. Augustine Trilogy:
Book I
A review placed on Amazon by Xankhan
"Poor Jeff is suffering from headaches and visions of things that are not really there. Is he going crazy or is he seeing what has been there all along? Sliding Beneath the Surface is a supernatural story set in lovely St. Augustine.
"After a visit to a local tribesman, Jeff learns that there is more to the world than one reality and he may just be the connecting link between them. There is a spirit who is literally giving Jeff a headache, a best friend and possible love interest, Carla who has supernatural powers of her own, and Lobo the native guide there to help Jeff reach his full potential and save his life. This book is a history lesson wrapped up with a paranormal bow.
"Sliding Beneath the Surface merits a turn of the page simply for its innovative method of weaving supernatural elements with historical information. And extra points for setting it in the fantastically intriguing town of St. Augustine.
"I am looking forward to the next installment."
To see the full review on Amazon, click here.