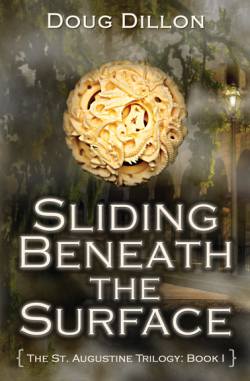 Sliding Beneath the Surface
The St. Augustine Trilogy:
Book I
Young adult, paranormal & historical
A review placed on Amazon by kwright711
"Sliding Beneath the Surface was an interesting mix of magical realism and history.
"I enjoyed reading Jeffrey's interpretation of events and his interactions with Lobo and Carla as they occurred throughout the novel. His descriptions were vivid, and I was intrigued with his connection to his ancestor and the other soldiers of the war.
"Lobo's abilities were necessary for Jeff's growth as a person, and Carla was the best friend that everyone wishes they had.
"The dream world that existed, where the events that transpire can become reality, was a creative twist that added to the suspense of the storyline. I also thought that dividing the book into four parts depicted Jeffrey's growth as the main character and enabled readers to see Jeffrey's change in thinking.
"As a high school reading teacher, I would recommend this book to teenagers interested in history and paranormal concepts and ideas."
To see this review on Amazon, click here.