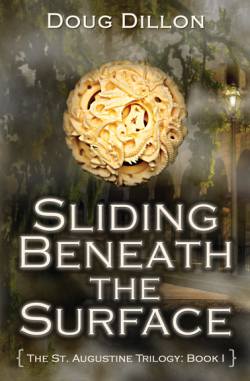 Sliding Beneath the Surface
The St. Augustine Trilogy:
Book I
A review placed on Amazon by Evie5719
"Having grown up in Central Florida, I have a tendency to take the rich history that surrounds me for granted. I am thankful to have read the story of Jeff, Carla and Lobo to remind me of how lucky I am to call Florida home.
"So was the case for Jeff – a teenager transplanted to St. Augustine from Orlando – whose story reels you in from the first few pages. Jeff is a seemingly unhappy kid who comes from a rough background – his father passed away and his mother is absent from his life and wrapped up in a relationship with a loser boyfriend. Jeff's only solace is his friend Carla. We see flashes of romance between the two throughout the book – and I enjoy that it is not a central focus of story.
"We find out that Jeff is being plagued by horribly vivid recurring nightmares, along with a persistent throbbing headache. He finally confides in Carla, who knows exactly what to do. Begrudgingly, Jeff goes along with Carla to meet her friend, Lobo. Lobo turns out to be an older Indian gentleman who is somewhat mysterious, has a pet crow and knows something is up with Jeff.
"From there, we are swept up in a supernatural world that intertwines historical fact and fiction that keeps you turning the pages.
"I really enjoyed Dillon's ability to make history come alive. When you are done reading this book, you will want to take a trip to St. Augustine and to all of the sites mentioned in the book. This would make a great accompaniment to the traditional textbook, and would work perfectly in the English or reading classroom.
"Definitely recommended reading for Florida natives, history buffs, supernatural enthusiasts and well…anyone!"
To see this review on Amazon, click here.