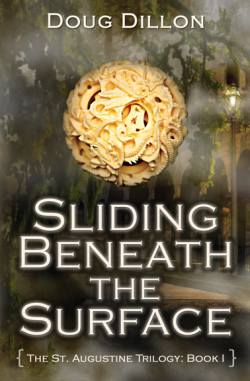 Sliding Beneath the Surface
The St. Augustine Trilogy:
Book I
Young Adult, Paranormal & Historical
A review on Amazon by Cait E
Sliding Beneath the Surface was a very unique book and very different from many other paranormal and fantasy books.
It is written in a way that makes it seem realistic, as though these strange things could really happen.
It is also unique because it not only includes supernatural situations but it is also infused with real history in St. Augustine, Florida, which I, as a middle school teacher, love!
In this book there is constantly something happening and you continue to be on the edge of your seat turning page to page.
From the very beginning of this book I was hooked.
I loved how Doug Dillon introduced the main character Jeff in such a hilarious way.
Jeff is such a sarcastic character and he's definitely a character that most people could relate to, which gets the readers quickly invested in what's going on. You want to know what he will go through next.
Jeff is a kid that recently moved to St. Augustine, Florida and he's just trying to survive being new but then we learn that he is going through some strange and unexplainable things.
In his desperation, Carla, Jeff's best friend, takes him to see Lobo, a wise Native American who has a lot of knowledge and special abilities in the paranormal area. Together, they try to figure out what is happening to Jeff and they need to find out quick before it means Jeff's life.
As a reading teacher, I will be recommending this book to my students who are 12 and up.
I think they would really enjoy this book because it is creepy, always exciting, and it includes the paranormal, which they love. They would also learn about history without even realizing it!
Click here to see this review on Amazon.