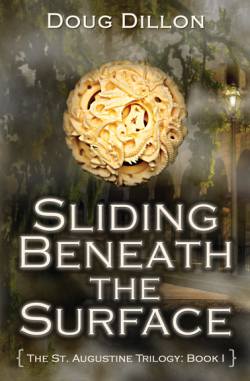 Sliding Beneath the Surface
The St. Augustine Trilogy:
Book I
Young Adult, Paranormal & Historical
A review placed on Amazon and Goodreads by Bruce Weller.
This Book I decided to take a chance on. I have been reading more in the vampires part of the paranormal. I was Very happy to find that this was a great read.
I like the flow of the characters.
Lobo was a strong old man with a way to get into the minds of those around him. I like how Carla took over and ran things the way she wanted them.
It was a good story on emotions and fear making people do and think in ways that are not logical to others.
I found Jeff to be a very typical kid trying to hide his intelligence and trying way to hard to impress the girl. I thought it was good that he started in his journey with the battles by himself, so when the time actually came he was ready to be there for others.
He got to lose it by himself so when the lives of others were on the line he found his true nature and was able to complete the journey that was his to make.
The Battle scene was made real to me. I am now wanting to go check on the actual battle.
Finding out that the character went from not seeing the past as real to the realization that war is not a story to be just read but a real frightening and deadly existence that no one should ever have to go through!.
I tried to write this review without trying to ruin the story for others. But I completely loved the morals of the characters and how history was brought to the eyes of the kids, sometimes we forget that real people have had to live though some very bad history.
I hope to see Carla and Jeff interact more in the future, I was so rooting for Jeff and Carla that seem to be a match made in heaven and a great team. With Lobo to drive them crazy I see great stories to be told.
Click here to see this review on Amazon.com.