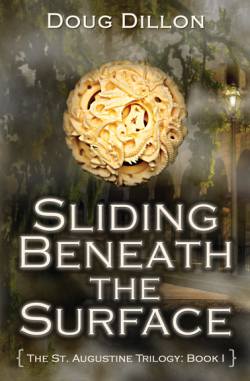 Sliding Beneath the Surface
The St. Augustine Trilogy:
Book I
A review placed on Amazon by Barbi.
This book is very descriptive and made me think of the writing style of Erin Morgenstern's "The Night Circus".
When you read the jacket you expect a thrilling story about Jeff & Carla battling something from the paranormal world with Lobo's help.
What you really get is a sly history lesson as well as teaching some life lessons. Jeff's story isn't really about paranormal activity as gripping as they may be; it is really about him growing up and learning that life stinks sometimes and you have to deal with it and move on.
Lobo tells Jeff "don't resist the problems or negativity life presents to you. Accept it for what it is and work through it" If we can do this then we allow ourselves to find peace and happiness regardless of the circumstances.
Lobo's goal in this story is to help guide Jeff through his journey of growth. His role in Jeff's life is one we all need; it felt appropriate that this was not a parent as most times it is someone from outside of our personal circle that makes the most impact in our lives.
The Author through Lobo constantly reminds us that how we react to people and things is our choice and not the doings of others. This puts the responsibility back on us as to how we choose to deal with the situations of our life.
All in all I did enjoy the book and I am glad that I gave myself the freedom to read something a little different. I have already recommended this book to a few friends so I think it is worth the money and time investment.
To see this review on Amazon, click here.