Subtitle: Reading motivation and skill building for secondary students who failed a state reading test, an author's perspective.
Recently, I spent the day in a high school reading classroom with a wonderful teacher and all of her 11th and 12th grade students. I was there because that teacher, Kathy Snyder, was using a class set of one of my young adult novels, Sliding Beneath the Surface with all of her kids.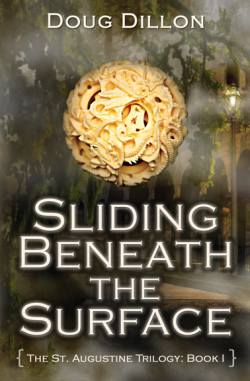 What a delight it was to see an expert educator getting teenagers deeply involved in a book when many of them truly hated reading and quite a few had little use for school in general. After having spent many years in the classroom, and working with at risk students full-time, I knew how difficult her task was.
I was there because Kathy's students wanted to meet me after this fantastic teacher had been so successful in motivating her students to read my book. Finally, at the end of the day, we chatted about what else besides her own tremendous skills, and the value of the book itself, got those kids so fired up.
One of the main things, we concluded, was the early use of a Youtube video and digital photographs to convey a dynamic sense of the book's setting, St. Augustine, Florida. See the video below and photos:
You see, well before Kathy introduced the book to her students, she and I collaborated by phone and email about how to best get her kids thoroughly involved even before they started the book and how to keep that interest going. We finally decided to do two things:
Show  the fan produce book trailer to kick things off and

Make good use of all the digital photos I have on my website, most of which are of St. Augustine and reenactment events pertaining to that city.
Well, the book trailer was a big hit. It got the kids geared up for the characters, the plot and the location. They loved it because that kind of quick action really got them wanting more.
Now, about all those photos.
Since the book is part of The St. Augustine Trilogy, the location of the plot was obviously of prime importance. Only 100 miles from where I live in Florida, that city is one of my all time favorites and where I used to take students on field trips back when I was teaching.
As the oldest and most haunted city in the United States, Kathy and I hoped all those pictures might make the place really come alive for students. And with the sub-genres of the book being the paranormal and the historical, selecting the right pictures proved to be a fun task.
In the end, I sent Kathy a disk containing over 100 photos, each containing its own unique file name and an accompanying alphabetical list of all the pictures.
And when she used some of the photos with her students before they started reading, in addition to having them do some research on the city and its history, she had them truly primed for getting into the story.
Soon after, Kathy either had students read out loud, or she read to them as the rest followed along. And in the process, she used the remaining photos that fit the corresponding text, including photos of an actual neighborhood where I fictionally placed the characters homes.
All of that worked like a charm. The kids ate it up and by the time I arrived, after they finished the book, they were more than ready for all my extra stories about St. Augustine, its history and its ghosts. Kathy couldn't believe how attentive her students were and she was amazed at how much more those kids got out of the book when I started asking them questions.
At the end of that day, Kathy and I were both exhausted, but we agreed that it had been the best day we had ever spent in a classroom. Amazing.
Kathy and I are now working together to create a teacher guide to go along with the book so that other educators can follow along in her footsteps. If you would like to read more about our work together on the project, the link below will take you there.
Reading Motivation that Worked
And if you are a reading or language arts teacher, or you're working on become one of those, maybe you can put together your own photo gallery to accompany a novel you might use in the classroom.
Good luck!