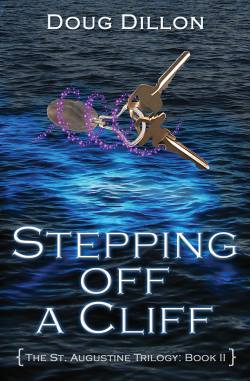 Stepping Off a Cliff: The St. Augustine Trilogy, Book II for Young Adults and Adults Young at Heart
A review placed on Amazon.com by Chuck Dowling
"Well Doug Dillon has done it again . . . only more so. Beware St. Augustine. If you thought the danger was great in Sliding Beneath the Surface, Doug's first book in The St. Augustine Trilogy, his second, Stepping off a Cliff, provides even more peril for the First City of America and its people.
"As good supernatural mysteries should, the tension and dangers increase steadily, until they reach a pressure packed peak . . . then they explode.
"But then, Jeff and Carla, two teenage loners with undeveloped but impressive mental powers, and their mentor, the mysterious and ageless Native American Shaman, Lobo, are there to stand in the way of the hidden attackers and their evil designs.
"The climax will leave you breathless
"Doug has created an eerie but mostly unseen world that exists side by side with modern St. Augustine and its people and its tourists. The tale weaves in and out among many of the Florida city's unique landmarks as the three attempt to stay the encroaching menace.
"First there is Matanzas Bay, which holds, a great secret; then, The Flagler Museum, the Castillo San Marco, Flagler College, the Bridge of Lions and more. It is obvious Doug knows and loves the city.
"No one will be disappointed with this book. It reads fast. In actuality, one could say it races to its rousing conclusion. Adults will like it. Teenage readers will love it. And, yes, they [teenagers] can make a difference."
See the book trailer below:
To see Chuck Dowling's full review on Amazon, click here.