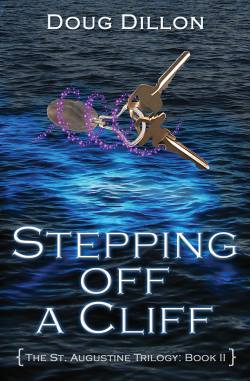 Stepping Off a Cliff: The St. Augustine Trilogy, Book II for Young Adults and Adults Young at Heart
A review placed on Amazon.com by M.M. Roethig
"Another great read by Doug Dillon!
"The story starts off in perfect sequence of his first book in the series, Sliding Beneath the Surface, and takes us on another roller coaster ride of mystery through the city of St. Augustine. We get to follow Carla and Jeff again on their adventure that leaves you gripping the edge of your seat to know what happens next.
"Lobo, the hard to love, tell -it-like-it-is, Shaman is along for the ride this time, as well as new characters that bring depth to the story.
"After reading this well written adventure, you will have a hard time looking at the world around you without wondering if maybe, just maybe, you might be experiencing 'other-worldly' events yourself.
"After his first novel, Sliding Beneath the Surface, I had the urge to visit St. Augustine. Now . . . I've really got to get there! :) Nice job, Doug! I enjoy this read and will definitely be keeping an eye out for more to come!"
See the book trailer below:
To see M.M. Roethig's full review on Amazon.com, click here.