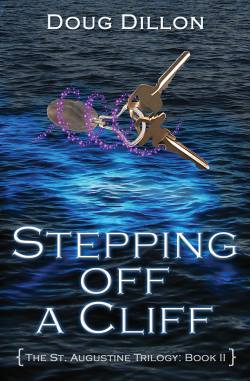 Stepping Off a Cliff: The St. Augustine Trilogy, Book II for Young Adults and Adults Young at Heart.
A review placed on Amazon.com by C. Williams
"Wow another great read from Mr. Dillon! . . . I honestly enjoyed this second book as much as the first! Mr. Dillon is a great storyteller using historical facts and the possibilities of what might be in the universe to create such a great story.
"I felt like I was part of Jeff's world and going on this adventure with him, Carla, Lyle, and of course Lobo.
Jeff learns more about his abilities in this installment of the series and some amazing facts come to light about all of the characters and the place in which they live, St. Augustine in Florida.
If you haven't read the first book, or it has been a while since you read it, Mr. Dillon tells the story in such a way that helps you remember what happened, or to catch you up.
"I don't want to reveal too much so I will just end by saying to give this book, as well as the first book, a try because they are very interesting and enjoyable reads.
"I definitely may be looking at things on the news and around me differently now!"
See below for the book trailer:
To see this review in full on Amazon.com, click here.