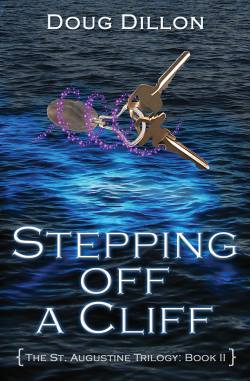 Stepping Off a Cliff: The St. Augustine Trilogy, Book II for Young Adults and Adults Young at Heart. Paranormal, historical, science fiction.
A review placed on Amazon.com by Bruce A. Weller.
"This book was better than the first. When reading the first one I was skeptical of how this great story could get better. But the blossoming of Carla and Jeff's relationship was outstanding and of course the man was NOT the first one to express his emotions.
"Lyle was a great character to bring, finding out his past and understanding where he came from was awesome.
"Lobo still has to be the rock but I love the softening of his character.
Jeff relationship with his mom was a turn I did not see coming. It shows that love is deep for parents even when you don't realize it is there.
"The villain in this book was a step into thinking about what kind of life forces, are truly out there, may it be from the sky or the ground are truly alone even on our own planet.
"Great read after all I read it is very seldom that I get surprised!!
"Awesome: can not wait for the next one!"
See below for the book trailer:
To see this review on Amazon.com, click here.