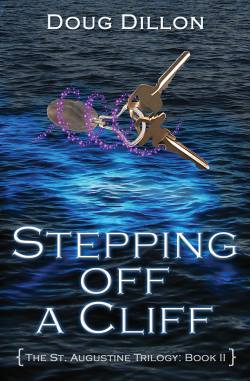 "Awesome Read!!" Young adult, paranormal, historical, science fiction. The St. Augustine Trilogy, Book II.
A review placed on Amazon.com by Len Phelps.
"Stepping Off a Cliff is Book 2 in The St. Augustine Trilogy and it is a mixture of paranormal, time travel, action and mystery all in one. It is a fascinating book with a very interesting storyline that makes you want to know what happens next.
"Just like Sliding Beneath the Surface, Book 1 in the Trilogy, it had my attention right from the beginning.
"Jeff, Carla, Lobo and Lyle are in great danger. They are dealing with something that is very big and paranormal. It is something that Jeff and Carla haven't dealt with before but Lobo and Lyle have, a long time ago in their past. Lobo warns them about the danger that they are in and he gets them prepared for what they need to do. Will Jeff and Carla be ready for what is to come?
"Their adventure together has begun. They will risk their lives to save themselves, the people and the city of St. Augustine. Will they be able to save everyone and the city before it is too late?
"As I was reading, I could feel the rollercoaster emotions that they were feeling during their dangerous adventure. I felt like I was right there with them.
"Doug Dillon has done an amazing job again! Thank you so much for another awesome adventure in The St. Augustine Trilogy! Stepping Off a Cliff is a must read so I definitely recommend all my book friends to check it out."
See below for the book trailer:
Click here to see this review on Amazon.com.