"History, Mystery, Paranormal Beings and Time Travel."Young adult, paranormal, historical, science fiction. The St. Augustine Trilogy, Book II.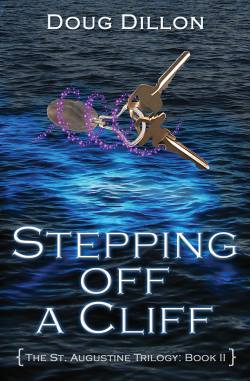 A review placed on Amazon.com by As You Wish Reviews "Julia".
"This book is an intriguing second following an incredible first in The St Augustine Trilogy. You'll find yourself devouring the book, turning the pages with history, mystery, paranormal & time travel all wrapped up in this next installment. Author Doug Dillon knows how to weave a fascinating story.
"Jeff has come a long way since he's moved to St. Augustine and met up with Carla and Lobo, his character has developed more as well as his gifts. When faced with a decision, his talents come to the surface.
"Carla is also quite amazing in this book, her soft outer shell has been penetrated and we see more of her personality and characteristics come out. Jeff and Carla's budding romance is taken to the next level with such care. We get to know Lyle, a homeless guy from the first book, as he is a key into Lobo's past.
"Lobo on the other hand is still up to his discrete and secretive self but with a little more style when he gets into a story interrupting him is not an option. Blunt and direct as well as defined we also get to know more about Lobo and his Shaman abilities in this installment.
"Faced with the unknown, a threat that can destroy St. Augustine and all who reside there, Jeff, Carla, Lobo and Lyle must face off and defeat the mysterious being before it's too late.
"If you loved Sliding Beneath the Surface (The St. Augustine Trilogy Book I) and cannot wait to find out what happens next, the journey in Stepping Off A Cliff [The St. Augustine Trilogy: Book II] will not let you down. Join Jeff, Carla, Lobo and Lyle as they fight to protect the city they all love, St. Augustine and all they hold dear."
See the book trailer below:
To see Julia's full review on Amazon.com, click here.