"Great Addition to a Very Interesting Series." Young adult, paranormal, historical, science fiction. The St. Augustine Trilogy, Book II.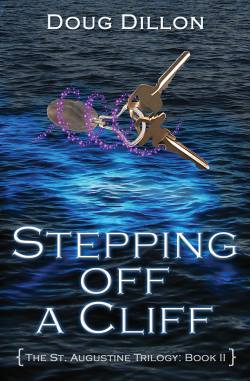 Stepping Off a Cliff:.
A review placed on Amazon.com by Shelby Lee.
". . . this story flowed along incredibly well and brought me right into the story as it was going.
"I love historical elements and the descriptions were lovely.
"I really liked the paranormal aspects and that this time the events that were happening actually drastically affected the real world around them. All of those elements added to the immediacy of the problem and how desperate their situation was.
"I liked how much the abilities for Carla and Jeff were growing and the continued use of the different worlds.
I would love to see Lobo's little special place. Sounded absolutely fascinating.
"The villain here was an incredibly interesting paranormal being. The PB was different than any other being and was truly a creepy wonderful villain. I found myself wanting to know more about it and how it thought. I loved how it learned and grew and have to admit its fascination with Hitler was amusing.
"Every little piece of history that was built into this story made my little historian heart melt. Just so much fun.
"The writing here is strong and is very enjoyable. I will continue looking for more books by this author in the future and will definitely be reading the final book in this trilogy as soon as it's available."
See the book trailer below:
Click here to see the full review on Amazon.com.