"What a Great Story!" Young adult, paranormal, historical, science fiction. The St. Augustine Trilogy, Book II.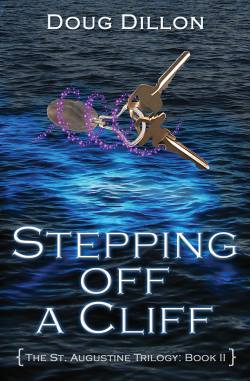 A review placed on Amazon.com by David.
"What a great story! Just finished Stepping Off a Cliff, the second book in Doug Dillon's St. Augustine trilogy.
"The book stands alone—you don't have to have read the first, Sliding Beneath the Surface, but if you have, not to worry. Jeff, Carla, Lobo, and cast glide seamlessly into Stepping Off.
"Doug is a masterful storyteller and keeps the reader on the edge of his or her seat.
"In Sliding Jeff and Carla have to overcome Jeff's long-dead, Civil War relatives. In Stepping Off, the two teenagers battle a Particle Being, which is intent on taking over St. Augustine by entering the bodies of all its citizens. Skirmish after skirmish, Jeff and Carla with Lobo's help escape with their lives, and just when the reader thinks their situation can't get any worse, it does.
"This is a YA novel, but if you like sci fi/paranormal/fantasy, you'll love this story.
"I couldn't put the book down."
See the book trailer below:
To see David's full review on Amazon.com, click here.