St. Augustine, Florida – Sliding Beneath the Surface – a teen novel – paranormal and historical, Book I of The St. Augustine Trilogy.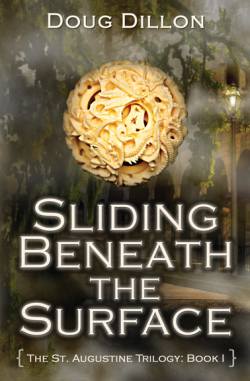 Description
In America's oldest and most haunted city, St. Augustine, Florida, teenager Jeff Golden is in trouble. Horrible dreams won't let him sleep, and he is up to his eyeballs in terrifying, paranormal experiences.
Finally, Jeff turns to his girlfriend Carla, and Lobo, the mysterious Native American shaman, for help. But what he discovers is a lot more than he bargained for.
A ghostly presence linked to a local historic cemetery is not only threatening Jeff's sanity but his life as well. And before he knows what's happening, Jeff finds both himself and Carla pulled into one of the nastiest and bloody events in Florida history. It is a place from which they may never escape.
See book trailerbelow:
Click here to see how this book is being used for motivation and skill building in school reading programs.
Click here to see more about this series.