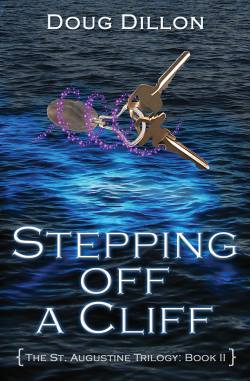 Stepping Off a Cliff: The St. Augustine Trilogy, Book II – for Young Adults and Adults Young at Heart.
A review placed on Amazon.com by Thomas Reda
"As I read this novel, I realized that each one of us exist for a reason and we are endowed with some kind of gifts. However, the sad thing is that most of us are not using this great gift to our full potential.
"Another point in the book, Jeff's story is a typical journey of a human being. It certainly relates with mine.
"As I read this novel, Jeff's life reminded me my own challenges in life. As he faced one challenge after another, there was always someone assisting him in this journey. He was not alone; whether his girlfriend Carla or other friends, they were always there for him to assist him in one form or another.
"So this reminds me, no man is in an island and we all connected with one another. At the end, it does not matter whether they will prevail or not. The fact of the matter is that he was not alone in this journey.
"I would like to thank Doug Dillon for his hard work in putting together such outstanding book. I am anxiously waiting for the next one.
"Even though this book was written in the young adults, I would strongly recommend it to all ages. I believe any age would enjoy reading it and learn from it.
To see the complete review on Amazon.com, click here.