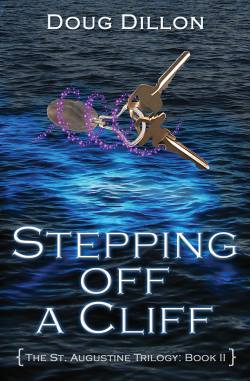 Stepping Off a Cliff: The St. Augustine Trilogy, Book II for Young Adults and Adults Young at Heart.
A review placed on Amazon.com by Steve Ballou.
"I completed reading Book II of Mr. Dillon's trilogy today and found myself more enthralled with the history of St. Augustine and the magic that was created in the story that begins in Book I.
"I am a stickler for reading epics in sequential order (I sill cringe when I think of friends I know who read Book II of Tolkien's trilogy before reading Book I).
"By now, the characters are etched in our minds, some of the visual pictures we have of the characters and place have been established; but, do not be lulled into thinking this is an ordinary tale. It is remarkable how Mr. Dillon created such a creature from the sea, a creature who at first does not arouse any personal feelings in us but slowly evolves into a specific type (or archetype) of emotion: the unexplained negative forces that draw us away from who we truly are.
"This theme, good versus evil, is appropriate since the real motive for writing this trilogy appears to be with the hope to draw young people into the joy of reading, to be swept away from this world into one created by the imagination. And, hopefully, it will lead them to even more books and start a life-time passion for reading.
"If you are a parent, it is safe to say that the value system of this book is of great benefit for your teenagers.
"If you are a teenager reading this review, you will find purchasing this book is worth both the money and the time you will spend getting to know Jeff, Lyle, Carla, and, most of all, Lobo.
"Have fun!"
To see this review on Amazon.com, click here.
See below for the book trailer:
For more information on The St. Augustine Trilogy, click here.