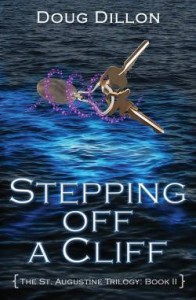 "A Modern Day Zombie Story." The St. Augustine Trilogy, Book II, for Young Adults and Adults Young at Heart.
A review placed on Amazon by BJPedigo.
"Stepping Off the cliff by Doug Dillon is another book that I started to read and I couldn't put down. I didn't know what to expect on each page. It is a true thriller.
"This book is the second book in the trilogy by Dillon. You don't have to read the first book to understand the second book. The same characters, Jeff, Carla and Lobo, return to save the oldest town in Florida from disaster.
"Modern day zombies start to take over the city and it's up to our heroes to stop them.
"Dillon uses facts and historical dates in his story. These are added in the author's notes. This is a bonus.
"Not only is it a fun story, it is educational. He uses actual locations from the city of St. Augustine. For example, the beautiful Caryatids are located inside the Flagler College.
"This is a recommended book for young readers and anybody who wants to read a good book. I look forward to reading book three in The St. Augustine Trilogy."
To see this review on Amazon.com, click here.
See below for the book trailer: