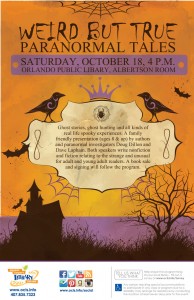 Upcoming presentation. Paranormal. Life after death. Ghosts. supernatural. Orlando, Florida area. October, 2014. FAMILY FRIENDLY,  ages 8 & up.
Come join me and fellow author Dave Lapham as we spin strange tales of the paranormal for families and friends in Central Florida.
Like me, Dave writes fiction and nonfiction in this literary arena. Like me, he writes books for young adults.
We'll both be sharing true stories that come not only from our own research and ghost hunting but also from our personal experiences over the years.
After the presentation, Dave and I will have our books available for sale and, of course, we will sign them as usual during such events. At the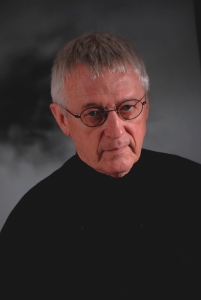 end of this article, I show some of the books that will be available.
Once people who desired to buy books have what they want, Dave and I will stick around for a short time to speak with anyone who wants to chat about our presentation.
Dave is a former Marine Corps officer who does subsitute teaching, and I am a former Central Florida Educator.
Program Title: Weird But True Stories for Halloween (A family friendly program. Recommended for age levels 8 & above)
Date: Saturday, October 18, 2014
Time: 4 PM (a one-hour presentation)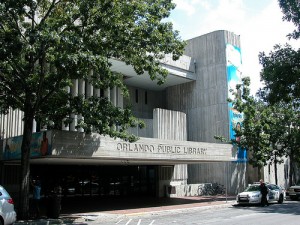 Location: The downtown Orlando Public Library, 101 East Central Blvd., Orlando, FL. 3rd floor, Albertson Room.
Parking: There is a city parking garage opposite the library on Central Blvd.
Phone: 407-835-7323
Library Contact Person: Christine Lindler, Program Coordinator