Funny Donald Trump caricature, parody and satire videos.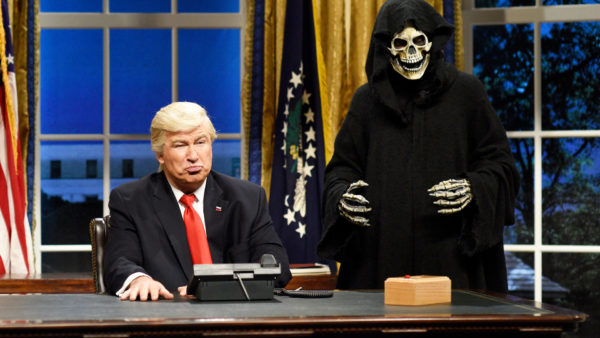 Laughing at Trump & Crew
Most Americans are not happy living under the Trump administration. That not fake news, it's a fact, consistently verified by a great many polling organizations and the tremendous number of people actively resisting the new president's agenda.
For that large part of our population, the negativity gushing daily from the White House can seem overwhelming and with no end in sight. But there is a partial remedy for this mass condition, other than impeaching Donald Trump, and that is – laughter. Yes, laughter. Indeed, seeing humor in these highly toxic situations can be the best medicine and the use of humor has the potential to be a most powerful political tool as well.
So, let the rest of this article be your outlet for at least somewhat relieving any political anxieties you might have acquired since the 2016 election.
What follows is a sample listing of TV comedy shows and links under those titles to some truly funny political satire. They are all short, most 5 minutes or less. You can browse by show title, comedian name, date or even length of time for each clip. And when you get done, pass some of those links, or even the link for this entire article, on to others. In that way, you will help spread fun and relief as well as using that humor to effectively change the political climate in this county. Enjoy!
Saturday Night Live
Donald Trump looks back on his first 100 Days (April 15, 2017, 5:56)
Sean Spicer Returns (May 13, 2017, 8:21)
Lester Holt's interview with Donald Trump (May 13, 2017, 5:21)
The Tonight Show Tonight with Jimmy Fallon
Trump Press Conference (Feb. 16, 2017, 2:48)
Donald Trump unveils Trump News Network (Feb. 21, 2017, 4:08)
Jimmy Kimmel Live
10 Second recap of Donald Trump press conference (Jan. 11, 2017, 2:35)
Kimmel on the Trump inauguration (Jan. 21, 2017, 1:20)
HBOs Last Week Tonight Show with John Oliver
Trump's "Military Operations" (Feb. 26, 2017, 4:34) 
Trump vs Kim Jong-un (April 23, 2017, 3:59)
The Late Show with Stephen Colbert
Trump was laughing stock of NATO (May 27, 2017, 4:20)
A Devastated Stephen Colbert Sings Farewell to the Mooch (Aug. 1, 2017, 9:48)
Note: This article was originally published by Indivisible Central Florida.