Where to eat and find good books in St. Augustine? Restaurants are everywhere in the historic district but there are only a few bookstores. Below, eateries first and then two of the bookstores: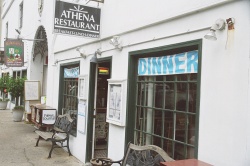 The Athena Café, a nice little Greek place on Cathedral Place, is right on St. Augustine's central plaza. I often eat here when I'm in town. Oh, I also used it as a location in Book I of The St. Augustine Trilogy titled, Sliding Beneath the Surface.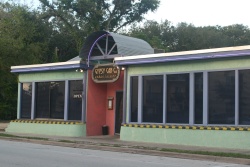 You'll find the Gypsy Cab Company shown here, across the Bridge of Lions on Anastasia Island. It's on the left just before you get to the lighthouse. Wonderful food and service. I always take home some of their fantastic house salad dressing. Worth the short drive if you are in the historic district.
Columbia Restaurant. A classy place located at 98 St. George St. that serves excellent Spanish food. It's part of a Florida chain that's been around for a long time.They also have a gift shop with all kinds of goodies.
Also right on St. George St., the Florida Cracker Cafe many times is my pick for a quick, great sandwich at lunch.

O. C. White's Restaurant in downtown is across from the St. Augustine Marina. This two-story establishment often has entertainment in the evening to go along with delightful meals.
A1A  Ale Works is at the end of King St. in downtown St. Augustine, right across from the central plaza. Another two story restaurant, this one sports balconies so you can observe the city from on high while you're munching out on the great grub.
Casa Maya Restaurant on Hypolita St. offers truly unique and delicious Mexican food in a delightful setting.

Bistro de Leon  next to the Athena Restaurant on Cathedral Place makes a great breakfast. Haven't been there for lunch or dinner but the the chef owner no doubt does an excellent job here as well.
(Mary's) Harbor View Café faces Matanzas Bay on Avenida Menendez. The perfect place for a good down-home breakfast.
Book Stores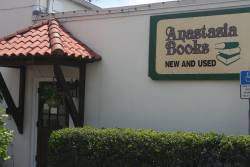 Anastasia Books has mostly used, out-of-print and rare editions. The type of wonderful  independent  bookstore that is so hard to find these days. The owner,  Sandra Parks, is an extraordinarily knowledgeable person and contributes a great deal to the St. Augustine literary scene. You can find her store on King St. across from Flagler College.
The Lion and the Mermaid Bookstore sells new and used books  as well as textbooks for Flagler College students.
Click any of the following for further information on the city of St. Augustine:
A Calendar of Events for St. Augustine