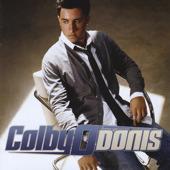 He's a singer, guitarist, pianist, songwriter, dancer, actor, and Grammy nominee. Yup, that little kid who used to live next door to me has developed into such a talented adult. What an amazing story.
Today I went to YouTube and looked up Colby's name and there he was with his song, "What You Got", with over 13 million hits. Incredible. Click here to see the video of that song.
I knew he was hanging out with lots of famous people but when I checked out the other YouTube videos I found him performing with non other than Lady GaGa. That video had over 146 million hits. You go, Colby!
For most of his career, Colby's manger was his dad, Freddie Colon. Freddie, his wife Olga, and Colby's grandfather, Ron, still live in the house next door to me where Colby grew up. One day when Freddie and I were having lunch, I suggested he do some guest blogs for me about Colby's fascinating musical journey and he readily agreed.
So here's the deal. Colby's dad and former manger will be doing two blogs about his son's blossoming into a well-known personality. He'll be telling it like it was as he and Colby struggled to hit the big-time and what it was like once that goal had been achieved.
If you like music, the entertainment field, or you're a Colby O'Donis fan, you'll enjoy the upcoming posts. Stay tuned and click here to see Colby's CDs.
To see Freddie Colon's first posting on Colby, click here.
To see Freddie Colon's second posting on Colby, click here.