In historic St. Augustine, Florida, the focal point for that old city is it's central plaza.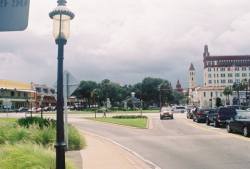 It has been this way since the founding of that old city by the Spanish over 400 years ago. Public and government buildings were built facing the plaza.
Two buildings still standing from days long past are the St. Augustine Cathedral and Government House.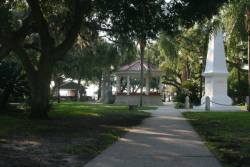 Officially called Constitution Plaza, a large monument was placed there in 1812 to celebrate the creation of Spain's short-lived constitution.
Other monuments in the plaza include a Confederate War Memorial and a memorial celebrating the participants in the Civil Rights Movement era.
As the city center, this area has always been used as a market, a place of celebration and simply where you go to relax. Every week during the summer, the city provides free entertainment there once a week called, Concerts in the Park.
For photo galleries of the plaza, click here and here.
Here are two other links for further  viewing and information: