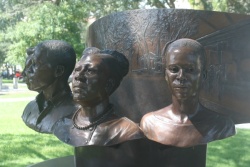 I spent most of last week in St. Augustine working on Book II of The St. Augustine Trilogy. During that time I wandered about the old city as I usually do, letting it speak to me and taking pictures. Thought I knew the place pretty well but I was very surprised to see a brand new monument in the central plaza. Surprised and delighted, I need to add.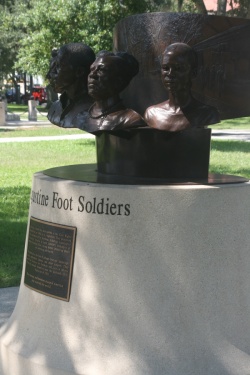 This new addition is a tribute to those people who were the "foot soldiers" of the Civil Rights Movement. Besides being a beautiful piece of art, it's a wonderful recognition of all those who risked so much for freedom and justice. These were the folks who put themselves in great danger by marching, protesting, sitting-in at lunch counters and riding freedom buses.
For a city that had its own history of racial strife, this monument is a welcome sight to behold as it shares the plaza with two others: the Spanish Constitution monument and the Confederate War Memorial.
The St Augustine Record had a nice article about the dedication ceremony. You might find it a quick and interesting read.
Congratulations to all those Foot Soldiers and to the city of St. Augustine for a job well done.
Click on any of the following for further information on the city of St. Augustine:
A Calendar of Events for St. Augustine