Studying and writing about the paranormal as I do often leads me into some very interesting experiences. Often, those experiences are "coincidental" in nature but so far above the possibility of randomness that they make me stand back in wonder. It's at those times I realize what I'm observing is something emanating from a source that demonstrates the unity of all things.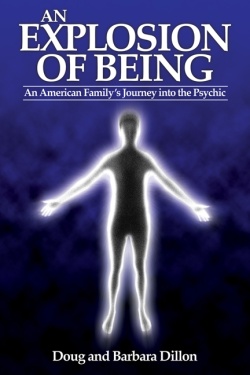 Carl Jung used the term synchronicity to describe such happenings. In his work, Jung validated the world of the paranormal and classified synchronous events as part of that world. If it's good enough for Jung, it's good enough for me.
Back in March, I got a startling taste of Jung's synchronicity through a very unexpected source. During that entire month, as a promotional effort, I offered  to give away a limited number of book copies on Goodreads, a website catering to over 7 million readers. One of those books was An Explosion of Being, the true-life story my wife Barb and I wrote about paranormal explorations.
The first edition of Explosion came out many years ago and in it, Barb and I did some psychic probing of a major Florida tragedy that occurred in those days called, The Skyway Bridge Disaster. In a nasty storm, a ship struck this bridge down south of St. Petersburg, destroying parts of it and and sending 35 people to their deaths in the waters below. I say that glibly now but at the time, I felt anything but matter-of-fact.  In addition to the sadness I felt at such horrible loss of life, my family and I had traveled on that bridge more than once. It could have been us.
OK, enough of that. Now, back to the Goodreads situation. As soon as the contest ended, the Goodreads people sent me the names of the winners and their addresses. Beforehand, I had purchased pre-stamped, Priority Mail envelopes. When I got those envelopes, I just glanced at them to make sure they were definitely pre-stamped but that's as far as my inspection went.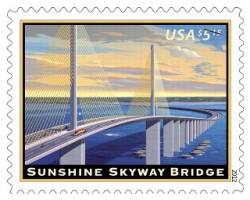 Only about halfway into my stuffing those envelopes with books did I take a closer look at the stamp. Truly, I had to look twice before I would believe what I was seeing. There on the stamp was an artistic rendition of the new Skyway Bridge.
As if that wasn't enough synchronicity, I went online to see how long the stamp had been in service. Issue date, February 28, 2012, exactly one day before the start of the Goodreads contest. I must have "coincidentally" purchased my envelopes right around the time those stamps were being presented to the public in St. Petersburg.
I can just see Jung nodding sagely and saying, "See!"
Click here for a recent blog posting I did on the Skyway Bridge Disaster.
Click here for the USPS announcement of their new stamp.
Click here for the Goodreads website.