I think paranormal events sometimes occur when we think of people who are no longer in this life. Or, maybe it happens when they think of us. Anyway, when such a thing occurs, it immediately connects me with the person and that is the beauty of it. The exact reasons why this type of thing comes about isn't as important as the fact that, for me, it accomplishes something very important on an emotional and spiritual level.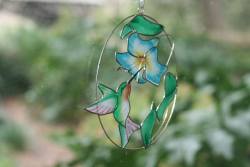 One day as I was writing at my desk, I took a stretch break and looked through the window on the other side of my computer. That always helps to refresh me since we have a large backyard full of trees and lush tropical growth. In scanning my domain, I glanced at one of the pieces of my mom's stained glass art we had saved after her death. It mirrors our backyard since we have some flowers and the occasional hummingbird.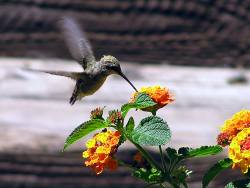 Mom had that same piece up in her kitchen window and I smiled with the memory of how much she enjoyed her house over in Indialantic. As soon as that thought flashed through my mind, a hummingbird came out of nowhere and hovered just inches from the window. Not only that, the position of its hovering was directly behind the stained glass hummingbird. The real creature was perfectly framed by the wire oval.
The little bird, with wings blurred in stationery flight, moved his head back and forth as if inspecting the interior of my home office. That lasted for about 10 seconds and then he was gone. The event couldn't have been scripted more perfectly.
Thanks Mom.
NOTE: For a truly fascinating update on this event, click here.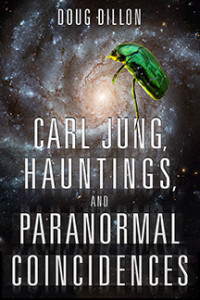 If you are truly interested in all kinds of strange phenomena, you also might be like to take a look at my book, Carl Jung, Hauntings, and Paranormal Coincidences.  You can find it in most online bookstores. Listed below, however, are direct book links to some of the larger retail outlets in the English speaking world:
Amazon.com, Amazon Canada, Amazon UK, Amazon India, Amazon Australia, Barnes and Noble, The Book Depository