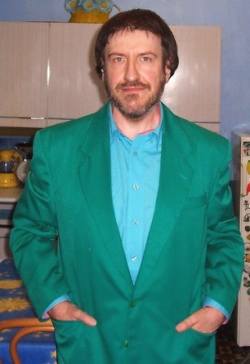 Recently, I had a delightful paranormal and literary contact from a man name Patrick Delsaut. Patrick , who is French,  originally trained as a biochemist and now spends all of his time writing about the paranormal. Specifically, he is interested in life on other worlds, UFOs and alien beings. The title of his home page is, Presence of Other Worlds. Patrick has authored a number of books and is in the process of getting them translated into English.
When he found my website,Patrick saw we had some similarities and decided to contact me. He doesn't speak English and I don't speak French but he uses a Google translator and we do just fine. Now Patrick and I are developing a good relationship as we talk about all things spooky. He seems like a great guy and we are exchanging information and having fun.
All of that is simply background for me to tell you what Patrick did for me as a fellow writer and paranormal prober. He said he wanted to create a banner for me to add to his website. I've started exchanging banners with other folks in the field so I agreed. But when he finished his work, Patrick had also created an entire page dedicated to me and my paranormal writing efforts. It's beautiful and I was astounded. If you would like to see it, click here.
First of all, I would like to publicly thank Patrick. Second of all, I would just like to point out to other writers and paranormal probers what a wonderful and generous spirit of international cooperation I've received from a man I've never met.
From Patrick, I've also learned how the Google translator can truly facilitate communications between people who speak different languages. Maybe you know how easy this is but I sure didn't. Thank you for that bit of education as well, Patrick.
If you would like to see the rest of Patrick's site and then follow how he set it up with the translator and then link to my special page, I will walk you through it below:
Click on the site link below
Scroll down to the translator and click on the flag indicating your language preference
Then scroll down to Miscellaneous
Select Friends Site
Somewhere there, you will find a gold rotating banner that shows my name and the some quotes from my websites. Click on that and you're there
Click here to start and have fun looking at his site. Its worth the effort. Patrick did it all himself.
Click here for Patrick's article titled, The Footsteps.
Click here for Patrick's article titled, Cries in the Night.
Click here for Patrick's article titled, The Ghostly Goodbye.