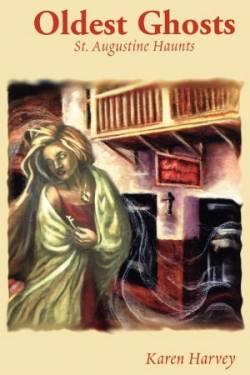 A Book Review
Author
Karen Harvey
Pineapple Press, 109 p.
In this book, St. Augustine, Florida resident Karen Harvey gives readers a unique look at hauntings in that old city. Besides being a writer about such things, she also serves as a guide for ghost tours in her hometown.
With chapter titles like, "Things that go Bump in the Night",  "Animal Spirits", and "Frightening Ghosts", Harvey immediately sets the stage for her spooky tales. But her book isn't just a string of ghost stories. No, it's peek behind those stories that looks at why these events happen and how they relate to the history of St. Augustine.
At the end, Harvey offers the reader a good glossary, bibliography and an index.
Click here to find this book online.
Click here for another book on ghosts of St. Augustine.