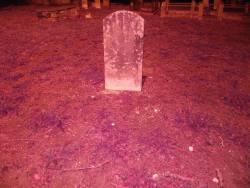 Haunted Tales of Paranormal Florida. Links to the Supernatural at its Best.
A guest post by Mary Jo Fister and Greg Bush from Offthetrails Paranormal investigations.
The Huguenot Cemetery in St. Augustine is one of the most popular tourist sites.
Many people take pictures there and find orbs, mists, or other unexplained anomalies later. The gate is locked, and tourists can only view the cemetery from outside the wall. It dates from 1821 when yellow fever killed many of the city's inhabitants.
At the time, it was just outside of the north gate. Then non-Catholics were buried there; hence the name, Huguenot. Today, it is the center of town. The cemetery was closed to burial in 1884.
OPI visited and were able to capture on film a mist and bright orbs we believe are spirits. Our Mel meter showed spikes of activity that correlates with the orbs and mists.
Since the site is on a busy highway, EVPs were inconclusive. Cars and other vehicles as well as tourists create a cacophony of sound. Our ovilus, however, spoke some very relevant words, such as fever, bury, and die.
Judge Stickney is sometimes seen sitting in a tree, possibly looking for the people who stole his valuables, including his gold teeth. We do believe there is paranormal activity there.
Click here to visit Offthetrails Paranormal Investigations
Click here to see information on one of my upcoming events where Mary Jo and Greg will be co-presenters with me at the Orlando Public Library.
Click on the following for further St. Augustine ghost stories, ghost hunts, haunted cemeteries and more:
St. Augustine, FL Ghost Story: Mary Hastings, Part 1
St. Augustine, FL Ghost Story: Mary Hastings, Part 2
St. Augustine, FL Ghost Story: Mary Hastings Part 3
St. Augustine, FL Ghost Story: The Portal
St. Augustine, FL Ghost Story: Ghost Playmates Part 1
St. Augustine, FL Ghost Story: Ghost Playmates Part 2
St. Augustine, FL: Haunted Lighthouse
St. Augustine, FL: Ghost Evidence
St. Augustine, FL: Ghost Animals
Haunted Lighthouse: St. Augustine, FL
St. Augustine, FL Ghost Hunt: Tolomoto Cemetery
St. Augustine, FL Ghost Hunt: Ancient City Inn
St. Augustine, FL Ghost Hunt: Old Lighthouse
Haunted Lighthouse: St. Augustine, FL
St. Augustine, FL Ghost Hunt: Old Jail
St. Augustine, FL Ghost Hunt :Miss Caroline's Guest House Part 1
St. Augustine, FL Ghost Hunt :Miss Caroline's Guest House Part 2