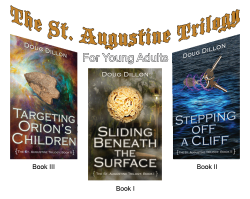 The St. Augustine Trilogy –  a success story – mixing history with the paranormal and science fiction to hook young readers:
Book I Sliding Beneath the Surface 
Book III Targeting Orion's Children
As a former secondary school social studies teacher, I just couldn't resist weaving strong historical threads into my young adult novels. Well, that and the fact that I love St. Augustine Florida, America's oldest city where all three books of my trilogy take place. A better setting for a historic laden YA series couldn't be found.
To hook a wide variety of readers though, I dared not push the trilogy's historic aspects as primary. No way. Not even for the 20-40 age group that likes young adult literature in addition to teens. Let's face it, sadly  a lot of people of all ages are just not all that enthralled with history.
In that light, I decided to use the excitement of explosive paranormal events and outlandish speculative fiction scenarios. Young folks like such things, and they provide the excitement that keeps them reading – reading and covertly learning a little history in the process. See the trailers for the two books of the trilogy already published below:
Sliding Beneath the Surface
Stepping Off a CliffI've talked to a lot of teens who have read my books and who have told me how the historic aspects work well. Here's a combined reaction goes something like this even in the reviews I get from adults: "Hey Mr. Dillon, I don't like history but that stuff you wrote is pretty cool!"
Another thing that seems to work is telling the story in the first person through the eyes of fifteen-year-old Jeff Golden, the trilogy's main character.
In Jeff, I embody a collection of so many of the trouble students I worked with back in the day. I addition to teaching social studies, I spent the last ten years of my educational career working fulltime with at-risk youth.
So really, it isn't just history that I weave through the pages of my books. No, the plotlines in The St. Augustine Trilogy have strong threads about personal development, decision making, responsibility and overcoming overwhelming challenges.
Yup, the kinds of things dedicated teachers try to incorporate in their approach to young people no matter what the subject matter.
And for me, to see the trilogy now being used in secondary reading classrooms with young people who are often classified as at-risk just warms my heart. In the end, I'm still teaching and I love it.
Here are some links to fill in the blanks if you care to look further:
Reading Motivation that Worked (The Pine Ridge HS project in Deltona, FL)
Rewarding Reading Excellence in Schools (ThePedro Menendez HS project in St. Augustine, FL)
Trilogy Locations in St. Augustine, FL
The Main Characters in The St. Augustine Trilogy
Teaching Resilience Through Young Adult Novels