If you visit St. Augustine, your trip wouldn't be complete without joining in one of the many Ghost Tours that old city has available. Lots of stories flow from knowledgeable guides by day and by night. In addition to all the spooky tales, you also get some interesting historical tidbits. The office for the tour below is on Aviles Street.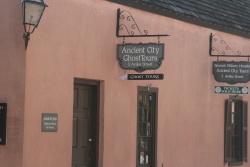 You can ride in a tram or a hearse, walk the streets with a group, or even take a ship out into Matanzas Bay. My wife Barb and I tried the seagoing version one evening and thoroughly enjoyed it. They even served refreshments on that one.
Here's a list of the tours I've been able to find so far. I don't claim it's complete but it certainly covers the majority of them. You can use the list as a selection guide in planning your activities for when you're in the old city or just have fun seeing what each of them has to offer.
St. Augustine Ghost Tours
Click on any of the following for further information on the city of St. Augustine:
A Calendar of Events for St. Augustine