An historic reenactment takes place every year in old St. Augustine that is really worth seeing. It's a joyous salute to the holiday season in which you can actually become a participant.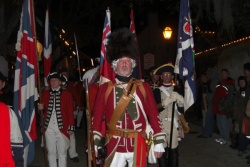 Known as the Grande Illumination Night Watch Parade, it is a culmination of a full week of activities featuring the British occupation of the city from 1763 – 1783. The 2011 event will be the 37th. Held this year at 8 p.m. on Dec. 3, it will be the biggest and best yet.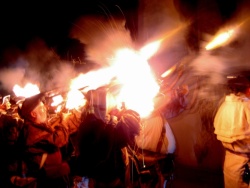 British soldiers, Native Americans, and St. Augustine citizens in period costumes lead the parade starting at Government House in the central Plaza.
Everyone present can join in the march that goes to the the City Gate and back again. The tradition is for participants to carry a lighted candle. If you don't have one, candles are for sale at a minimal price.
At the conclusion of the parade, the British soldiers fire their muskets and people sing Christmas carols in the plaza.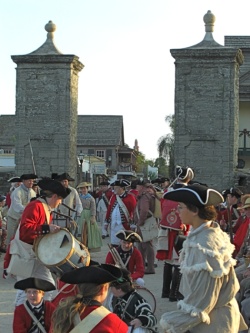 For action views of this event, here are two YouTube videos:
This parade is part of St. Augustine's wonderful Nights of Lights Celebration that always begins before Thanksgiving and goes through the month of January.
Many thanks to the British Night Watch Committee for their generous permission to use the photos shown above. Look for a forthcoming blog of British Night Watch pictures in a photo gallery format. Click here for more pictures.
Click on any of the following for further information on the city of St. Augustine:
A Calendar of Events for St. Augustine