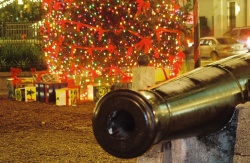 From November through January of every year in Florida, the old city of St. Augustine lights up for the holiday season. Titled, "The Nights of Lights," this long-term event bathes trees, historic buildings, homes, parks, bridges, inns and restaurants in the warm glow of little white lights.
This is a beautiful, fun time in this ancient city when stores, art galleries and restaurants stay open late and people come from all over the world to stroll the streets that date back to the time when Spain ruled Florida. Go there and tour St. Augustine's treasure-house of historic buildings by day and then immerse yourself in the wondrous illumination at night. You won't regret it.
For YouTube videos of this event, Click Here and Here.
Click Here for more detailed information and stay tuned for other blogs coming soon that will point out some of the specific events that occur in America's Oldest City during its illuminated holiday season.
Click on any of the following for further information on the city of St. Augustine:
A Calendar of Events for St. Augustine