Viewing old St. Augustine from on high is quite a treat. You really should try it.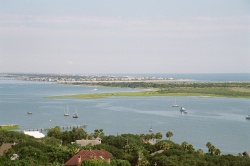 This photo was taken from on top of the St. Augustine Lighthouse.
Click here for a view of downtown St. Augustine with some specific sites identified.
Click here for an excellent long distance view of St. Augustine, Crescent Beach, and the  Matanzas Inlet Region.
Click here if you would like to see a YouTube video of the city from a helicopter.
Click any of the following for further information on the city of St. Augustine:
A Calendar of Events for St. Augustine