You can't do any serious digging/construction in St. Augustine, Florida unless you get city permission of a very unusual kind.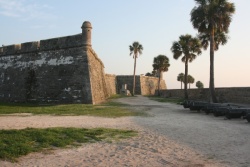 After almost 450 years of history, the soil in that municipality might well contain ancient artifacts or even long forgotten human remains.
To protect these objects of great significance, St. Augustine requires property owners within certain sections of the city to submit an application before they dig.
A city archaeologist investigates to make sure no sacred burial sites are disturbed and no artifacts are destroyed. Click here  to see a YouTube video about the process. For a thorough look at St. Augustine's archaeology program, click here.
Click any of the following for further information on the city of St. Augustine:
A Calendar of Events for St. Augustine