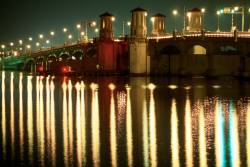 This photo taken of St. Augustine's Bridge of Lions a number of years ago by my son Greg Dillon is one of my favorite pictures of all time.
Erected to replace an old wooden bridge from downtown St. Augustine to Anastasia Island in 1925, this beautiful structure was listed in the Register of Historic Places in 1982.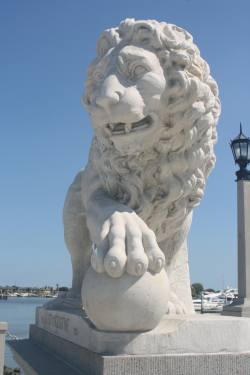 Over time however, salt water damaged the bridge so badly it became unsafe and needed to be replaced. When a proposal to build a highrise structure met with stiff local opposition, the city decided to rebuild the bridge just as it looked in 1925. Click here for the restoration website.
The majestic lions guarding the old bridge were taken away and in 2006 a temporary crossing rerouted traffic. Over a period of four years, the old bridge was removed and a new one installed close to where the old one had stood.
Then on a rainy St. Patrick's Day in 2010, a celebration opened the completely restored Bridge of Lions–first to classic cars followed by people on foot and eventually to regular traffic.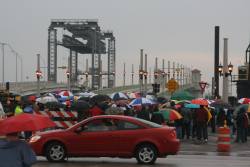 It was a grand spectacle and one I was delighted to join as a participant. To view a Photo Gallery from start to finish of this event, see my previous posting.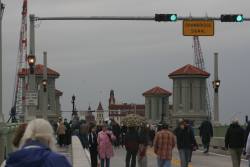 It took another year to complete the restoration of the two lions but they are now back in position and all is well.
Click here for a photo gallery of the Bridge of Lions reopening.
Click any of the following for further information on the city of St. Augustine:
A Calendar of Events for St. Augustine