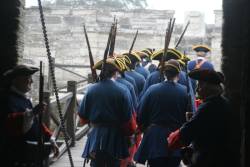 They call themselves the St. Augustine Garrison and they present lots of delightful reenactment events in America's oldest city. Dressed in 18th Century uniforms, these folks are dedicated to portraying  little bits of Spanish military history in Florida. The group used to be called the Spanish Night Watch.
Every year they have what they call a Grand Muster (Gathering) and then a parade. For 2012,  the Muster will occur on March 22-23 and the parade will happen on March 24. Click here to see a video of the 2011 Muster.
Want to learn more about the Garrison itself? Click here for their website. Be sure to look at the site's Resources page. It has a ton on links showing soldier cannon and musket drills as well as the use of black powder.
An interesting tidbit here is that King Juan Carlos and Queen Sophia of Spain came to St. Augustine in 2001. During his visit, the King proclaimed  the Garrison to be his personal guard. No other reenactment group in the United States has been honored in such a distinguished manner.
Click any of the following for further information on the city of St. Augustine:
A Calendar of Events for St. Augustine