In the 17th century St. Augustine, Florida area, the Spanish built the Castillo de San Marcos and Fort Matanzas out of a local material we identify today as "coquina" (ko-kee-na). A limestone kind of rock, it's actually made up of compressed sea shells and originally was mined in the King's Quarry on Anastasia Island. Today that place is called Anastasia State Recreation Area.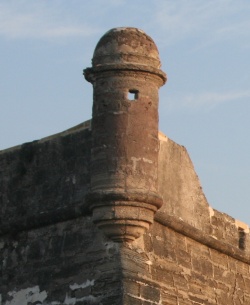 With the construction of those two buildings, the Spanish no longer had to worry about pirates or other enemies burning down their fortifications. Much to their delight, they also found that coquina simply absorbed the impact of cannon balls instead of shattering like regular stone.
The Spanish at first called coquina, "piedra"–stone. Later on they used the term "Mamposteria"–masonry. In St. Augustine, this word not only included the cut stone but broken pieces used for various types of construction as well. When the American's took over Florida in 1821, they too called it "Mamposteria" but by the later 1830's the name changed to the Spanish word for shellfish or tiny clams–coquina.
When mined, coquina is soft and can easily be shaped into blocks. Depending upon where it is pulled out of the earth, it can be gold in color or light brown. Over many years though, it turns the dull grey you see when looking at the Castillo or Fort Matanzas today. It's interesting to see the stark contrast in color when they do repair work on the Castillo using fresh coquina.
Also used in the construction of the governor's house, the City Gate, a lighthouse and a monument for the Spanish Constitution of 1813, the King eventually allowed common everyday people to use coquina in the construction of their homes.
Care to investigate coquina a little more? Click here for information from a company that sells it.
For a coquina photo gallery, click here.
Click on any of the following for further information on the city of St. Augustine:
A Calendar of Events for St. Augustine