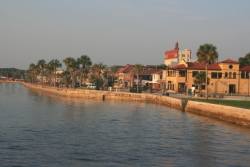 St. Augustine's history is definitely written in the names of its streets and other locations. One such area is Matanzas Bay and Matanzas River. Loosely interpreted as meaning "bloody", the word Matanzas has a definition closer to that of another word, "slaughters".
It all relates to  the early bloody days of Spain ruthlessly crushing all opposition to its occupation of this part of the New World.
Matanzas Bay sits opposite the Castillo de San Marcos and Matanzas River borders the eastern edge of St. Augustine's historic district.
For a photo gallery of the area, click here.
For further information on the city of St. Augustine, click on any of the following:
A Calendar of Events for St. Augustine