In 1888, famed Standard Oil businessman, Henry Flagler, opened his beautiful Ponce de Leon Hotel in downtown St. Augustine on King Street.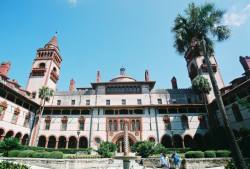 Created by using poured concrete, it was the first major building made this way in the United States. The structure's stained glass windows were the work of the hotels' decorator, Louis Comfort Tiffany and his company. Four Edison dynamos generated electricity, bringing artificial lighting to St. Augustine for trhe first time.
Catering to rich northerners escaping the frigid blasts of winter, Flagler's hotel was an instant hit. Presidents Grover Cleveland, William McKinley, Theodore Roosevelt and Warren Harding all stayed there.
Eventually, the hotel fell on hard times and it became an educational institution. Restored and expanded, the Ponce is now Flagler College, a very respected center for higher learning.
College students give daily tours. It's well worth the small admission price.
Click here for a photo gallery.
For further information on St. Augustine, click any of the following:
A Calendar of Events for St. Augustine