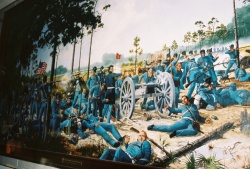 A tragic seven-year period in Florida history began on December 28, 1835.  The nasty business of slavery was still thriving in what was then a territory of the United States and most of the surviving Native Americans were desperately trying to hold on to what land they had left. It was a time when the United States government allowed slave catchers to run rampant and used its army to evict the Seminole people from their homes.
On that date in the present day city of Bushnell, a large force of Seminoles, supported by their black allies, attacked Major Francis Dade's column of over 100 soldiers.  In the end, Dade lay dead and only three of his men lived to tell the tale. One of the three was Luis Pacheco, a slave pressed into serving the military as a guide and interpreter. Only a few Seminoles didn't survive but this event sparked the Second Seminole War that lasted until 1842 and took thousands more lives.
Why do I bring up such a thing? In addition to referring to the Dade battle in my young adult novel, Sliding Beneath the Surface, I hope to spark interest in this difficult period of Florida and American history as its anniversary of December 28 nears. Over the next few weeks, I will be posting blogs and photo galleries that will give some depth to what I'm trying to do.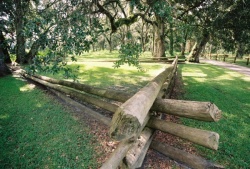 Where the battle took place is now called the Dade Battlefield Historical Park. It's a beautiful site with a small museum, a replica of the meager log fort erected by Dade's troops, and markers showing where Dade and some of his advance party fell. The mural at the top of this blog is the work of Florida artist Jackson Walker . It shows Major Dade's men in the midst of battle and is located in the museum.
Annually, during the first week in January, the Dade Battlefield Society presents an excellent on-site reenactment of what happened so long ago. I've seen it three times and each time I am astounded how real it looks. If you are interested in going, here is some information you should know:
Dates: The weekend after January 1
Where: Dade Battlefield Park, Busnnell, FL. Just off I-75 about midway between Tampa and Ocala
Times: The park opens at 9 a.m. but the reenactment doesn't occur until early afternoon on each day. Saturday is usually the most crowded.
Cost: $10 but free for members of the Dade Battlefield Society
Parking: You will be directed to a parking lot and a bus will take you into the park.
Food: Food vendors will be on-site.
What else? Both the Seminole and solider reenactors set up actual camps where you can can mingle with them and chat.
Directions: Take exit 314  off I-75 and go east on State Road 48 for about a mile. Then go right on Battlefield Parkway (County Road 603). That will take you straight to parking and the park itself.
Also, if you live in or are visiting South Florida, be sure to visit the Ah-Tah-Thi-Ki Museum on the Seminole Reservation.  Especially if you are not Native American, you might find their perspective on the history of all the Seminole Wars of, uh, well, great interest.
Click items below for Dade Battle related photo galleries and other postings
Photo Galleries
Dade Battle: Reenactment, Part I
Dade Battle: Reenactment, Part II
Postings
Florida History: The Dade Battle Part, II
Florida History: The Dade Battle Part, III
Florida History: The Dade Battle, Part IV