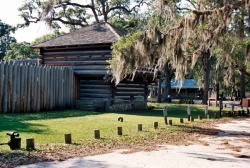 After the start of the Second Seminole War in Florida, the U.S. Army built forts all across the territory. In what is now eastern Orange County near present day Orlando, the fort built there in 1837 was named after the day soldiers arrived in that region: Christmas.
Today, a replica of Fort Christmas is operated by the Fort Christmas Historical Society. Click here for the website and information on additional historic buildings located at Fort Christmas Park.
Click here for a photo gallery  showing Fort Christmas Park.
See below for Dade Battle related photo galleries and other postings
Photo Galleries
Dade Battle: Reenactment, Part I
Dade Battle: Reenactment, Part II
Postings
Florida History: The Dade Battle, Part I
Florida History: The Dade Battle Part, II
Florida History: The Dade Battle Part, III