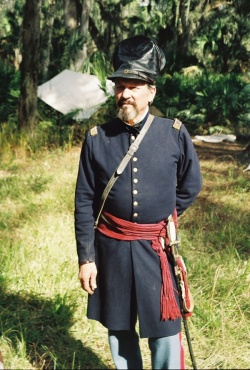 The massacre of over 100 U.S. Army soldiers in frontier Florida of 1835 by desperate Seminoles and their black allies led to the Second Seminole War.
A spectacular reenactment of that event occurs every year halfway between Tampa and Ocala, Florida. Presented by the Dade Battlefield Society at the the Dade Battlefield Historical Park in Bushnell, FL, this dramatic re-creation takes place during the first weekend in January.
For further information on the battle and that time in Florida history, go to the Seminole Wars Foundation website and get yourself a copy of Frank Laumer's excellent book, Dade's Last Command. You can find Frank's book and others that discuss this historic period by clicking my website's Vault tab.

This blog is part of a series of posts and photo galleries I am offering in hopes of educating readers about this crucial event in Florida history. My next post will show the soldier and Seminole camps always set up by reenactors in the park before the modern day version of the battle begins.
If you are interested in attending, here is some information that might be of help:
Dates: January 7 & 8, 2012
Where: Dade Battlefield Park, Busnnell, FL. Just off I-75 about midway between Tampa and Ocala
Times: The park opens at 9 a.m. but the reenactment doesn't occur until early afternoon on each day. Saturday is usually the most crowded.
Cost: $10 but free for members of the Dade Battlefield Society
Parking: You will be directed to a parking lot and a bus will take you into the park.
Food: Food vendors will be on-site.
What else? Both the Seminole and solider reenactors set up actual camps where you can can mingle with them and chat.
Directions: Take exit 314  off I-75 and go east on State Road 48 for about a mile. Then go right on Battlefield Parkway (County Road 603). That will take you straight to parking and the park itself.
See below for Dade Battle related photo galleries and other postings
Photo Galleries
Dade Battle: Reenactment, Part I
Dade Battle: Reenactment, Part II
Postings
Florida History: The Dade Battle, Part
Florida History: The Dade Battle Part, III
Florida History: The Dade Battle, Part IV
Fort Christmas: A Legacy of the Dade Battle