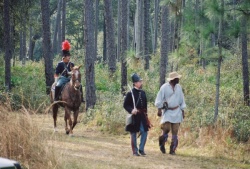 The battle that began the Second Seminole War in Florida is re-fought by reenactors during the first week in January every year.
Presented by the Dade Battlefield Society at the Dade Battlefield Historical Park, this event will take you back in time to when slavery was legal and the Seminole people were fighting for their lives.
To see previous posts on the Second Seminole War and the Dade battle, look in the Florida History and Photo Gallery categories to your right. The next two posts and photo galleries on this subject will continue the exploration of the reenactment. For a YouTube video showing the battle, Click Here.
If you are interested in attending, here is some information that might be of help:
Dates: January 7 & 8, 2012
Where: Dade Battlefield Park, Busnell, FL. Just off I-75 about midway between Tampa and Ocala
Times: The park opens at 9 a.m. but the reenactment doesn't occur until early afternoon on each day. Saturday is usually the most crowded.
Cost: $10
Parking: You will be directed to a parking lot and a bus will take you into the park.
Food: Food vendors will be on-site.
What else? Both the Seminole and solider reenactors set up actual camps where you can can mingle with them and chat.
Directions: Take exit 314  off I-75 and go east on State Road 48 for about a mile. Then go right on Battlefield Parkway (County Road 603). That will take you straight to parking and the park itself.
Here also are links to The Seminole Tribe of Florida and The Miccosukee Tribe.
See below for Dade Battle related photo galleries and other postings
Photo Galleries
Dade Battle: Reenactment, Part I
Dade Battle: Reenactment, Part II
Postings
Florida History: The Dade Battle, Part I
Florida History: The Dade Battle Par, II
Florida History: The Dade Battle, Part IV
Fort Christmas: A Legacy of the Dade Battle