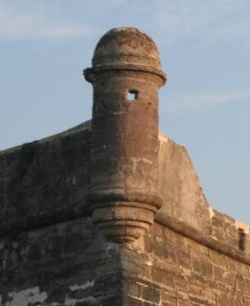 For over 300 years, the Castillo de San Marcos has stood guard over the city of St. Augustine.
Begun by the Spanish in 1672, the structure was finally completed in 1695. Because previous wooden forts kept getting burned down by invaders, this one they built out of native Florida stone called coquina.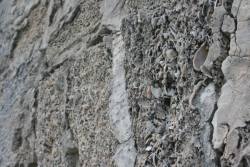 This limestone rock consists of tiny, tightly packed sea shells. It served the Spanish well since the stuff absorbed cannon balls like a sponge. The fort was fired on many times but never taken in battle. In places, the Castillo's walls are 19 feet thick.
In the 1800s, the place served on three different occasions as a prison for Native Americans and was called, Fort Marion.
Run by the United States Park Service, the Castillo is open seven days a week and has periodic cannon firings Friday through Sunday.
For a photo gallery on the fort's exterior, click here.
For a photo gallery on the fort's interior, click here.
Click here for more on coquina.
For a video tour, click here.
For further information on the city of St. Augustine, click any of the following:
A Calendar of Events for St. Augustine