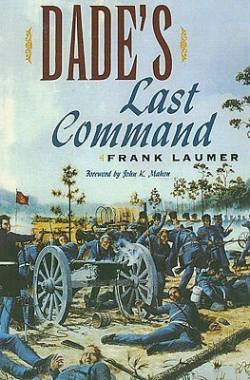 A Book Review
Author – Frank Laumer
Historian
Lives in Dade City, FL
Received  the D.B. McKay Award from the Florida Park Service for "Distinguished Service in the Cause of Florida History"
Reenactor – plays the role of Private Ransom Clark, survivor of the Dade battle in 1835
Founder of the Seminole Wars Foundation
University of Florida Press, 285 p.
This book is a"must read" for anyone interested in Florida's Seminole Wars. Meticulously researched, it is the best documentation of the Dade battle, the massacre that began the Second Seminole War (1835-1842), ever written. It is a relentless tale that shoves the reader directly into the political world of early nineteenth century America. Author Frank Laumer pulls no punches as he offers readers a stark look at the precursors to war, slavery and Native American removal in frontier Florida.
Liberally quoting letters, interviews and other period documents, Laumer eventually shoves the reader headlong into the battle itself. Using the actual words of soldiers, Native American warriors and an African American participant, Laumer brings all that action into a chillingly vivid focus. The desperation felt by all the participants is made painfully clear and is only exceeded in Laumer's  descriptions by their  ill-fated bravery.
The author demonstrates his research and carefulness with detail by including extensive end notes, a solid bibliography and a very useful index. The dust jacket of the book is a reprint of Florida artist Jackson Walker's painting depicting the Dade battle.
Click here to find this book online.
See other links below for further information on the Dade Battle and the Second Seminole War:
Photo Galleries
Dade Battle: Reenactment, Part I
Dade Battle: Reenactment, Part II
Postings
Florida History: The Dade Battle, Part I
Florida History: The Dade Battle Part, II
Florida History: The Dade Battle Part, III
Florida History: The Dade Battle, Part IV