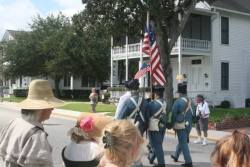 In 1842, soon after the end of the Second Seminole War, the U.S. Army brought the remains of over 1300 soldiers from across Florida to St. Augustine for interment. Those remains now lie under three coquina pyramids in the St. Augustine National Cemetery.
On August 18, 2012, The West Point Society of North Florida commemorated the ending of the Florida Indian Wars. This event occurred in St. Augustine at the Florida National Guard Headquarters housed in the old St. Francis Barracks as well as in the National Cemetery. Joining  the Society, and participating, were members of the Seminole Wars Foundation.
This event celebrated the anniversary of the end of hostilities with the Seminole and Miccosukee Indians, and remembered the Native Americans, soldiers, and West Point Graduates who perished in the Florida Indian Wars.
On that day, reenactors from the Seminole Wars Foundation set up an historical encampment and fired a 6-pounder cannon–a replica of the one used by Major Dade's forces at the start of the Second Seminole War. After speeches at the encampment location, a procession lead by costumed soldiers walked to the cemetery. After a brief ceremony at the burial site, a uniformed bugler blew taps.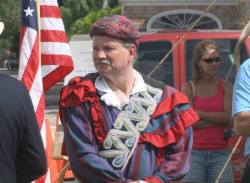 After the ceremonies, a luncheon was held at the Officers' Club in the St. Francis Barracks. The speaker at that time was Robert Thrower, Tribal Preservation Officer for the Poarch Band of Creek Indians and a descendant of Major David Moniac, USMA, 1822. His excellent talk titled, "Between Two Worlds", gave those attending lunch some fascinating viewpoints from the Native American perspective.
For a photo gallery of this event, click here.
The following are some links to the organizations mentioned above:
The West Point Society of North Florida
The Poarch Band of Creek Indians
The St. Augustine National Cemetery
These are some other links relating to the Second Seminole War
Photo Galleries
Dade Battle: Reenactment, Part I
Dade Battle: Reenactment, Part II
Postings
Florida History: The Dade Battle, Part I
Florida History: The Dade Battle Part, II
Florida History: The Dade Battle Part, III
Florida History: The Dade Battle, Part IV